SHOP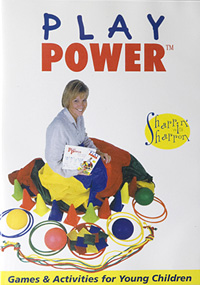 PLAY POWER DVD
Learn about the connection between the body and the brain and then watch Sharron play with children in group games and activities.

DESCRIPTION: Motor development in the early childhood and preschool environment is the key to future learning. In this DVD, Sharron will lay the foundation of why this is so important and then give you the basics of how to provide an effective, fun and valuable program. You will also be able to see exactly how this looks as Sharron works with kids live and unrehearsed in 35 different and varied activities. Sections of this 75 minute DVD include: The Connection Between the Body and the Brain; Low Organized, Non-Competitive Games; Simple Equipment Play; And Parachute Play. Suggestions for warm-ups and cool-downs are also shown.


$15.00 + tax & shipping
PLEASE NOTE: US ORDERS ONLY
. International orders may be arranged by
contacting us
.
PREVIEW PLAY POWER DVD SEGMENTS
Connection Between the Body and the Brain
Sharron talks about the importance of play and learning emphasizing motor development, brain research and overall development of the child.
> Preview on YouTube

Snickers and Hoots
Sharron leads children through the cooperative game of Snickers and Hoots. This non-competitive activity is a great one for early childhood and preschool settings.
> Preview on YouTube

Parachute Play Introductory Lesson
Watch Sharron as she introduces the use of the parachute to children as well as playing the game Pop the Bubbly.
> Preview on YouTube

Chapter Organization
This clip lays out what you will see and learn in the DVD, Play Power.
> Preview on YouTube

Bean Bag Play
Simple and fun activities are not expensive! See Sharron guide children through these cooperative games and activities using bean bags.
> Preview on YouTube

$15.00 + tax & shipping